This article was originally published by Laura Shunk on June 2, 2011.
View the original article here.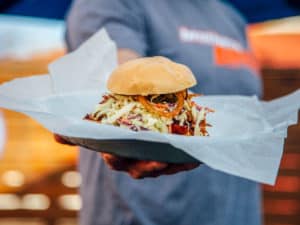 We haven't reached the solstice yet, but we're past Memorial Day — which means that it's as good as summer. And until Labor Day weekend, we'll be wearing white, using the long hours of daylight to drink on rooftop patios and, of course, eating barbecue until we explode.
To kick off our three-month stint of carnivorous feasting, we're bringing you Denver's five best BBQ restaurants.
Denver's five best BBQ joints
Brothers BBQ
Brothers BBQ Nick and Chris O'Sullivan may hail from England, but they had a long-standing obsession with barbecue before they opened the first Brothers back in 1998. And while this Denver-based chain isn't exactly entrenched in the stylings of a devoted pitmaster, it serves up a consistently good platter of pulled pork, hot links and ribs, doused in sweet-spicy sauce and sided with such bbq staples as potato salad and baked beans that take us right back to 4th of July picnics of yesteryear.
Yazoo Barbeque
Company Yazoo is flavored by owner Don Hines's training in Memphis, where he worked on barbecue teams twenty years ago. Frustrated by the lack of decent barbecue options in Denver, he opened the original Yazoo on the edge of downtown, at 2150 Broadway. And five years ago, he expanded south into Greenwood Village. At both locations, Hines uses a Memphis-style dry rub on his ribs, pork shoulder and brisket to lock in flavor. "If you're using sauce, it blocks the smoke from getting into the meat," he says. And those meats get cooked over pecan wood: "Too much hickory gets bitter. You get a nice color and sweet smoke with pecan wood." Yazoo landed our Best BBQ Novelty Item award this year, thanks to the bacon-wrapped, jalapeño-swiped chicken breast dubbed the BoB.
M&D's Cafe
Ordering the pulled pork in hot sauce at M&D's comes with a warning: "Honey, you had our hot sauce before?" the waitress will ask. "Hot means hot." And so it does, in that slow-burn sort of way that makes eating a challenge as you stare down your plate and convince yourself to take another bite before your head explodes. We like it better mixed with the medium, which produced a flavor combo that's honey-sweet, vinegary….and hot enough. The sauce is Southern-style more than anything else, influenced by the fact that Mack and Daisy Shead are from Texas but ran a BBQ eatery in New York before they moved to Denver and opened M&D's (now operated by their kids). The spot's 'cue is featured on a menu of Southern comfort-food that also includes fried green tomatoes, fried catfish and hot wings.
Big Hoss BBQ
Big Hoss Bar-B-Q The team behind Big Hoss Bar-B-Q competes in the Kansas City barbecue circuit, but their style is informed by several different parts of the country: pork shoulder from Carolina, brisket done Texas-style in a closed-pit, and half-chickens in Alabama white sauce. While the entire menu is fine, we're especially partial to the shrimp in the spicy Carolina sauce and the center-cut St. Louis ribs, sided with fried cheese bites and some pit-cooked baked beans.
Jabo's Bar-Be-Q
When Jabo Lawson abandoned his mobile barbecue pit and moved indoors, he traded up for a custom-built, in-house smoker, where he can now cook 700 pounds of meat at once. He uses that smoker to make tender brisket, piquant Louisiana-style hot links, pulled pork shoulder and, best of all, pork ribs, which are two inches thick, layered with opaque fat, deeply infused with throat-stinging smoke and so tender the meat practically melts into a puddle in your mouth. Everything that comes out of that smoker gets coated in a sauce based on a recipe from Shreveport, Louisiana, and made at varying levels of spiciness, every version delicious. By the time you've smothered your barbecue craving with meat, meat and more meat (and maybe a few sides), you'll think you can't eat another bite. And that's why the spot earned our Best BBQ award in the Best of Denver 2011.