We serve our sandwiches up on a fresh potato bun. Pickles, onions and jalapeños available by request.
Top it with slaw for 25¢, extra meat for $3.00, or add a side and drink for $3.99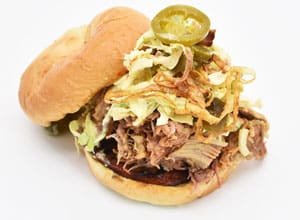 The Brother
A thin layer of smoked and grilled Hot Link, slow smoked Pulled Pork topped with creamy coleslaw, Tangy Vinegar BBQ sauce, jalapeños & fried onions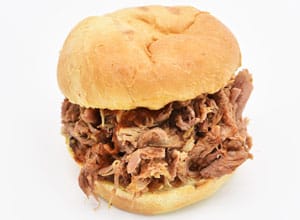 Pulled Pork Sandwich
Our most popular meat! Pulled Pork is served in the Memphis and Carolina traditions of BBQ. Our Pork Shoulders are smoked over hickory wood for over 12 hours. Finished on the grill in Tangy Vinegar BBQ Sauce.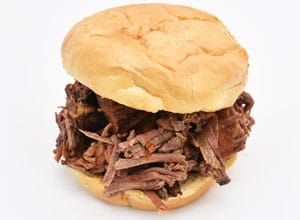 Beef Brisket Sandwich
Juicy and tender Beef Brisket served in the Kansas City style of BBQ. The Briskets are slow smoked over hickory wood for over 12 hours. Finished on the grill in Original BBQ Sauce and chopped to be served.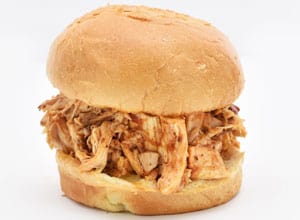 BBQ Chicken Sandwich
All-natural, hormone and preservative-free chickens. Smoked fresh daily until they're enriched with that proper smoky flavor. Finished on the grill with our Original BBQ sauce.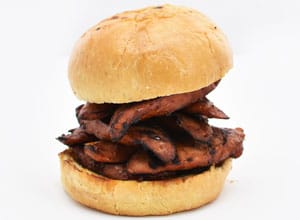 Hot Link Sandwich
Our specialty spicy sausage links are hand selected and highly addictive! Our Links are sliced and grilled to perfection in our Original BBQ sauce.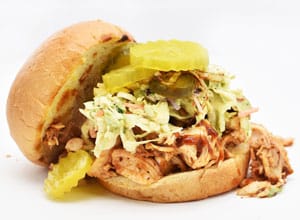 The Bang
Inspired by UFC fighter Duane "Bang" Ludwig. Slow smoked BBQ Chicken topped with creamy coleslaw, Tangy Vinegar BBQ sauce, jalapeños, fried onions & pickles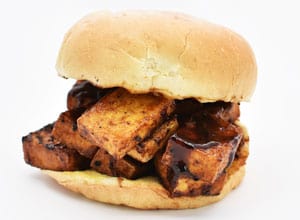 BBQ Tofu Sandwich
Who ever said BBQ has to involve meat? Brothers BBQ Tofu is flash-fried and finished on the grill to a light char in our Sweet BBQ Sauce giving it a crisp, and flavorful finish. We've been told our BBQ Tofu ranks up there with some of best vegetarian dishes Denver has to offer.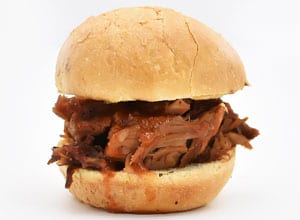 BBQ Slider
A mini BBQ sandwich. Choose your meat: Pulled Pork, Beef Brisket, Hot Link, BBQ Chicken, or Tofu (add $1 for Beef).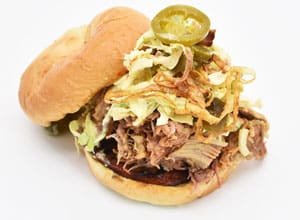 The Little Brother
Like The Brother, only little.