Bagged lunches from Brothers BBQ come complete with everything you need to feed groups of 10 or more, quickly and easily!
Choose between a Sandwich Meal (with 1 Side Item) or Deluxe Meal (with 2 Side Items). All meals include your choice of BBQ Sauce, Beverage, and Cookie. Meals are individually bagged and conveniently labeled by name.
Minimum order 10 people. Includes Free Delivery (with 18% gratuity). Contact Free Options Available.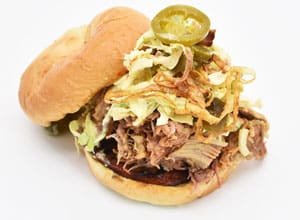 Sandwich Meal
Choose a Sandwich (and 1 Side Item): Beef Brisket Sandwich (+$3), Pulled Pork Sandwich, BBQ Chicken Sandwich, Hot Link Sandwich, BBQ Tofu Sandwich, or The Brother. Includes side, canned drink and cookie.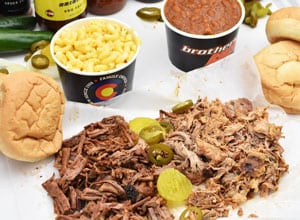 Deluxe Meal
Choose 2 Meats (and 2 Side Items): 1/4 lb. Beef Brisket (+$1), 1/4 lb. Pulled Pork, 1/4 lb. BBQ Chicken, 1/4 lb. Hot links or 2 Pork Ribs. Includes side, canned drink and cookie.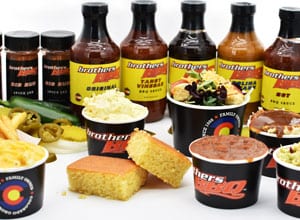 Side Items
BBQ Beans, Coleslaw, Potato Salad, Mashed Potatoes with Gravy, Mac & Cheese, Cornbread, or Bag of Chips.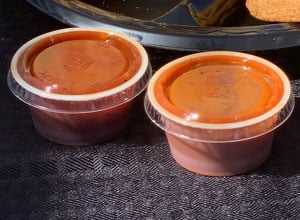 BBQ Sauces
Original, Tangy Vinegar, Sweet, Hot, or Carolina Mustard.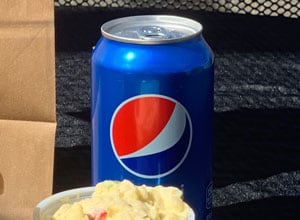 Beverages
Pepsi, Diet Pepsi, Dr. Pepper, Mountain Dew, Sierra Mist, or Bottled Water.